…..I have to say Coldplay was a pretty tough ticket to get last minute. For the first time in a long time (probably since U2's Vertigo Tour) I didn't find any last minute singles on ticketmaster. At any rate I made out better than OK with a side stage (Bucklands side) seated 8 rows from the edge. Nice!! The crowd was a very, very happy bunch. It seemed like everyone I talked to was much more than a casual fan. They all seemed seriously devoted. When I squeezed into my section 110 row 8 seat 9 location (I'm a bigger guy) I said to the woman I sat beside, " I bet you hoped no one would be taking this seat" her reply exemplified what the overall vibe of the entire ACC seemed to be, she said " I wouldn't deny anyone this experience". Those words quite simply said it all! What a perfect line!!
The instrumental Life in Technicolor opened the show. This was another statement of sorts. A song to say "we are a working, rocking band and not just a singer/ songwriter on keyboards. It also comes through in the mix with a richer guitar and drum sound on the new CD. Coldplay rolls into the huge single Violet Hill and then Clocks from A Rush of Blood, which is the first of what will be 5 tunes from this CD. Clocks comes across perfect. The crowd is into every word. I love Clocks. We are on our feet from note #1 until the end of the show.
We get a nice run of tunes from Viva La Vida starting with the title track then Chris Martin does his best Lou Reed on Yes and then 42. Fix You from X &Y is a great tune live.
Nice guitar work here!! Martin trailed the vocals to let the crowd really carry this tune. Crowd participation is great!! A new CD highlight for me comes next as Strawberry Swing. The song has some great drumming & keyboards going on, it just has a nice feel for me.
The stage backdrop was basically the new album cover art that was switched back and forth with a black and white video feed from the show. The ACC had 4 or 5 huge, what appeared to be blue globes hanging down that would rise and fall and could operate as video screens. The stage design was pretty basic but it all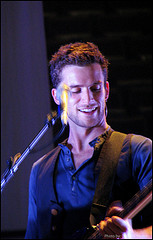 worked well. There were ramps down the sides out into the crowd but they didn't really get used all that much. I do recall at 1 point Martin attempting to tackle Buckland and falling on his back which required some help in getting up.
The band did the small busker stage / b stage / side stage whatever you want to call it. It was just OK for me. They played Chinese Sleep Chant followed by God Put a Smile on Your Face while out in the boondocks of the B stage. I really like song, God Put a Smile on Your Face but on the B stage it was a little thin. I liked the album version much better. I think it was the stripped down electric drum sound.
Back to the main stage for Speed of Sound followed by Yellow which worked really well. There were more cameras at this show than I think I've ever seen at any concert. There were just tons and tons of cameras. At one point during the intro into Yellow Chris Martin says to someone down front " hey man thats a pretty great camera I have the same one"  Yellow is definate highlight. CM intros the song nicely blows a ton of smoke up Torontos ass by telling us how unparalled the crowd reaction is. To tell you the truth judging by the crowd reaction to everything…. I beleived him!! I caught this on video as well. Yellow was done with the house lights on full and the sing along was really fun.
Yellow | Coldplay in Toronto | ACC from concertaholics on Vimeo.
Following Lost they once again leave the main stage by "running" through the crowd to an entrance near the back corner of the arena between the lower level and the upper level. Here they played The Scientist. I love this tune.It didn't really work that well visually where they set up, at least from my vantage point. The sound was good, the video globes projected it all and the crowd loved it.The sing along was great but the band was virtually invisible from where I was. I caught this on video so you can see what I mean. Chris Martin tells the house this is the last night Will is going to be in his 20's and he does the lead vocal on Death Will Never Conquer.
httpv://ca.youtube.com/watch?v=LDte8ToDcA0
We get Bill O'reilly on video telling us Martin isn't man enough to come on his show along with a remix of Talk on soundtrack blasting while the band takes the trip back to the main stage for a heavy payback version of Politik followed by Lovers in Japan… at some point the skies open up (or in this case – bags in the ACC ceiling)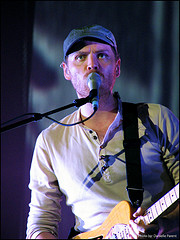 and multi coloured butterfly-shaped confetti and blasting dry ice smoke showers the crowd. The effect is OK but soon becomes much better than a cool gimmick when the neon coloured butterflies are hit with black lights and the venue is a sea of glowing fluttering bits of paper… Death and All his Friends to conclude the main set. You know there is no way Toronto is letting Coldplay off the hook. Out they come for a rousing 1st encore with The Escapist. The second encore was quick and dirty with Don't Panic which Martin prefaced by stating "we haven't had a chance to rehearse this 1". The last song (I had to go to the fan site to get the name) The Dubliners. Coldplay blew through these 2 tunes with gusto took the bows and left.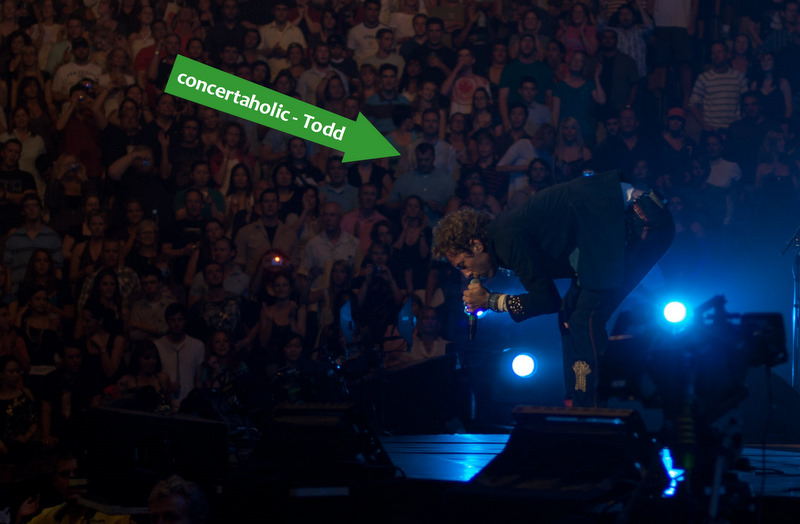 When a band can roll out that many new tunes from a album which was released basically a month ago, have a large % of crowd sing the new tunes back to them and get the sustained crowd response they did to every song, from start to finish, something is working for them!! They are pretty much on top of thier game right now!!
There were maybe a couple of spots in the show for me where the sound was a little thin, almost too small too eletronic / techno for a large arena venue. That feeling came mostly from the "b" stage stuff. However
the overall level of crowd participation, and for the most part great song selection and the musicianship made the show what it was!!!
I scored a setlist and guitar pick after the show. When I asked the tech for a pick he said in a heavy British accent "we don't usually give them away because they are so fvckin' borin' !!!"  The pick is just a plain grey pick no band logo …nothing! Come on Coldplay!! Get some real picks happening!!
Concertaholic Todd
Thanks to D.L. Parent for contributing the 1st 3 photos for our Review. Her other shots are here

Thanks also to a.mercurio for the photo with Todd in it. He has other nice shots of the evening here