Posted by:
SGB
in
Joel Plaskett
, tags:
Concert Review
,
Joel Plaskett
,
Three
The Professional

The stage set up in the Sean O'Sullivan Theater at at Brock University on Friday night was evidence that there wasn't going to be a rock show. On the stage were 2 microphone stands, 5 guitars and a keyboard.  When he was introduced the tall, lanky Plaskett appeared as though someone had told him ten minutes ago that he was performing tonight.  Loose sheets of paper in hand, he bumped his head on the microphone when he put them down, he looked, well, confused. None of this seemed to faze the crowd as there were numerous "I LOVE YOU JOEL" greetings before he had struck his first note.
As a prelude to Absentminded Melody he finger-picked and sang a brief, off-the-cuff salute to St. Catharines citing The Hideaway and The Mansion House.  After his first number he confessed to being up late the night before in Brooklyn, "You can probably tell by my voice, and the fact that I haven't shaven."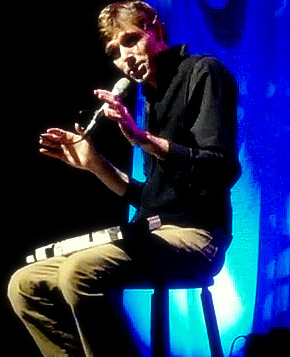 As he said this he broke a string trying to tune his guitar.  A collective sigh and chuckle.  You would assume that most Polaris Music Prize winning artists would have a stage hand run out and hand him a new guitar.  No suck luck.  "Anyone know how to put on a G-String?"  Eventually an audience member volunteered and strung it, sitting on the piano bench, taking as long as it took Joel to sing the second song.  "I should be able to tune this thing and tell you a story at the same time, I am a professional after all."
What followed were 2 sets of songs from his latest, 3-disc record called 3, along with some old favorites, rare gems and yes, occasional lapses in professionalism.  Despite these the crowd, seemingly very familiar with his body of work, appreciated every moment and laughed with Joel as he laughed at himself.   A few songs in he announced that he was going to play a song on his keyboard, but rather than sitting down at the one set up he picked up what looked to be no more than a small toy keyboard held together by duct tape, a Value Village find no less.  On this he would eventually play very fun renditions of Television Set and Fashionable People, the last two songs you'd expect to hear during an acoustic set.  In addition that little toy accompanied him on Rewind, Rewind, Rewind, one of the shows highlights.
Taking a song that in the studio received much production treatment with numerous instruments and backing vocals and presenting it so stripped down live is the mark of a good performer, but moreover it reveals how good of a songwriter Plaskett is.  His songs seem to work no matter how they are played.  Once people began shouting out requests I was reminded of a Neil Young show 2 years ago when a pre-recorded announcement sternly told fans not to shout out requests because the set list was pre-determined.  Joel seemed flattered by the requests.  Even taken aback when one fan called for The News of Your Son.
"We don't play that one often" Joel chuckled.  "
"I KNOW, I'VE SEEN YOU SEVEN TIMES AND I'VE NEVER HEARD IT!" the fan replied.   He played it of course, as far as I could tell he didn't have a set list written out.   He seemed even more flattered at the request of a Thrush Hermit song.  "St. Catharines was always good to the Hermit" he grinned.
Peter Elkas of the Emergency eventually joined Joel onstage and backed him with vocals, guitar, and keys. The two finished off the first set on high note with hand-clapping favorites Happen Now and Rollin, Rollin, Rollin.
The second set had its share of high points and humorous moments.  Joel introduced Nowhere With You as one of his greatest hits and it didn't disappoint.  He told stories, often in the middle of songs.
"That was the first verse, I think it went well.  Here comes the second, I hope you enjoy it."
This one also introduced as a "new song" called "Old Friends"…
He spoke of his education in the week past and coming.  While in New York he took in a Broadway play starring Hugh Jackman and Daniel Craig called A Steady Rain.  He saw one of heroes Nick Cave perform, and next week he and Peter were off to Philadelphia to see Bruce Springsteen.  Elkas performed his own new single, the catchy Poor Young Things.  "When I sit down to write a song I always try to sound like Bruce Springsteen but it turns out sounding like Bob Seger' Peter lamented.
Always personable with the audience, Joel and Peter were able to find the humor in the mishaps that occurred throughout the night.   Plaskett closed the show by dropping to his knees and feigning injury or exhaustion, either saluting James Brown or making fun of himself.  On cue, Peter brought out a cape and draped it over the star of the show, something he had foreshadowed in the opening number.  After retreating to the back of the stage he all of a sudden returned, triumphantly to finish the song.  In the midst of his charge back to the microphone he inadvertently unplugged his guitar and as he began to sing again there was no accompaniment.  Laughter ensued, most enthusiastically from the two performers.  Undeterred, they tried the entire scene again.  This time Plaskett's cape knocked over the beautiful Gibson guitar Peter had been playing all night, sending it tumbling. That's how it ended.  A great show that fell short on professionalism but no one in attendance seemed to mind.  It goes to show you, all the slick stage preparation and execution in the world are no substitute for talent and charm and Joel Plaskett has an abundance of both.
Another brief moment from Deny, Deny, Deny
The setlist, in no particular order, as far as I can remember:
The News Of Your Son
When I Have My Vision
Work Out Fine
The Day You Walked Away
Absentminded Melody
Television Set
Happen Now
Rewind, Rewind, Rewind
I Love This Town
Fashionable People
Penny For Your Thoughts
Face Of The Earth
You Let Me Down
Through & Through & Through
Safe In Your Arms
Sailors Eyes
Rewind, Rewind, Rewind
Precious, Precious, Precious
Deny, Deny, Deny
Rollin, Rollin, Rollin
Nowhere With You