Once I got inside I moved to the front left side and posted myself for the show. I had been really looking forward to this show as I had really got into James @ the album Seven and stayed with them through Laid and Wah Wah. I caught the Laid tour in 1993 at the Ontario Place Forum with the rotating stage.
I know there are several albums before Seven, and several after Wah Wah but I didn't get back into them until this last album Hey Ma!  Maybe it was the Brain Eno production sound on Seven, Laid and Wah Wah!!  Technically Wah Wah was part of the Laid sessions that didn't see the light of day in Canada for awhile after Laid album. At any rate there is enough back-catalogue to keep me busy with James once again.
The stage seemed almost too small. The seven members of James and all their equipment took up quite a lot of space. The venue was packed, as the show sold out quick and I didn't really see very many tickets on the street. The tickets I did hear change hands were going for @80 bucks.
The band could have probably played a larger venue based on the quick sell out and lack of tickets out front. There was as sizable group hanging around outside hoping to score last minute tickets. Likely to no avail.
Whew, Whew, Whew, Whew…..Whew…. All this Frustration … Born of Frustration from Seven YES!!….What a great tune to start the show! Everyone is singing!!. I'm thinking man this is so good already.
Tim Booth is happy that is very clear from the start. He loves the stage, the crowd loves him and the band is rocking. Everyone is having a really great time.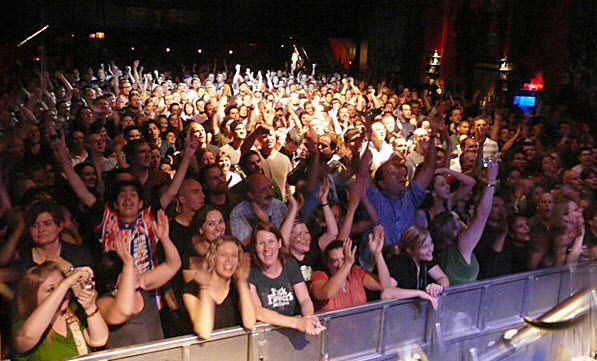 We get a couple of songs from the new album Hey Ma next. Waterfall gets really great crowd reaction. They played a nice bunch from this new album including Bubbles, Oh My heart and Hey Ma. This song was rolled out with references to the war in Iraq, Tony Blair and George Bush. (Hey ma the boys in body bags coming home in pieces)
Booth asks how many fans had seen the band first time around 15 years ago "at the stage that revolves", many hands go up and he smiles and says," he wanted to see how long the relationship had been".  "Next time, bring some friends and we will have a bigger party"
Talking about the instruments, we get songs with 2 drummers, a violin, there are at least 3 set of keyboards, plus an electronic drum kit, many guitars, maracas, tambourines and I watched a tiny handheld keyboard with a mouth tube attached a le Frampton, being played. I'm sure there was more I just didn't catch it all.
There was a point in the show when the crowd sang back the chorus of Sometimes for 10 minutes with the band just standing there watching, listening and smiling. It was just amazing. It could easily have been the longest, loudest continuous singing by a crowd I ever heard.
Big highlights for me Ring the Bells and Say Something. Probably, the biggest buzz for me though is reserved for Don't Wait that Long which is played as the first encore song. The guitar here just comes across as so Gilmour-esque to me. This was followed by Star then the mega hit Laid which they kind of blew through.
The band left the stage then returned to play, Top of The World. This song was unplanned and does not appear on the set list. I managed to score a setlist after the show. There wasn't a single guitar pic tossed.
All in all this was really really fun show!! For 25 bucks… man that is hard to beat!!
Todd
Photos from this show on Flickr
Please let us know if you find any videos from this show on youtube by commenting below.