It isn't just a rock show!! U2's 360 Tour is a massive spectacle!!  This band is at the absolute pinnacle of their success in many ways!! Heading into this show if you want to be close to the stage you have to go the full GA immersion. You have to get down early and stay alert and get ready to run when you can. Jeff got down to the Rogers Centre somewhere around 8:30AM and I arrived just after. There was a fan list being done that never really helped much but none the less we were numbers 236 and 237. The first few barricades held tents, chairs, newspapers and lots of sleeping bags.  There were people who started camping out before the first show was even over and others who attended show #1 on the 16th & walked out of the venue and right back into line.
Understanding there is an circular area that holds some 2000 we were going to be in there no problem… it is the barrier spot in between Bono and the Edge that is in very high demand and this was our predetermined ideal location for watching U2 360 unfold.
This would be my 8th U2 show and of the last to 2 tours I was inside the ellipse twice and the heart twice. The location of the Rogers and the many store in close proximity made life a lot easier. The day was spent people watching and meeting new fans. The line up began to tighten up around 2PM. Security had people get rid of their chairs and begin to bunch up. Close to 4PM security began to stamp tickets and hands with a green stamp indicating these were general admission bodies and tickets.  At 5PM security made a weak announcement letting people know there were 5 shoots to move down and we needed to remain orderly. This is where security was the most lax.
I stood in my approximate location and watched as easily 50 to 100 people began to filter into the line. This is when I made my decision to move directly to a shoot bypassing the barriers all together!! Being basically a loner concert goer I move quickly and hit a hard run as I clear the turnstiles. Security told people not to run. I just kept running. I ran down 3 ramps and then the stairs to floor of the stadium and to the security manned barrier at the entrance to the pit!! Bang! I am in the pit and dash for the rail stage in the space between the microphone stand for will Bono and where Edge will spend most of his time during the show!! Out of breathe but very happy I check number of the people beside me just for curiosity sake and they are in the low teens!! Not bad and right where I want to be.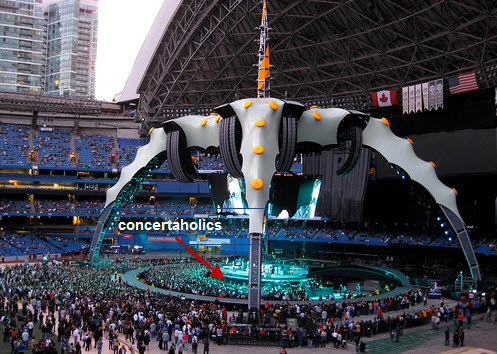 Right away the stage is massive and very impressive. In size maybe the Stones last couple of tours would compare but by design this beast is in a league of its own. As I understand that there are 3 of these babies playing leap- frog around North America. A show on this scale has to stay on the road for a couple of years to really make it worth while. AS an added bonus the roof is fully retracted. This is the first show the roof has been opened since one of Bruce Springsteen's shows in 2003 a the Rogers Centre.
After everything is said and done this tour will likely be the highest grossing tour of all time. Were not here to count beans we are here to see rock and roll in all its glory!! Snow Patrol, open the show and they are very well received.  Nice gig for these guys!! Fellow Dubliners getting to open up for what is right now the biggest band going!! Snow Patrol play an inspired set given the task and really come across as having a lot of fun!!
The anticipation is thick!! As 9PM nears and with the end of each song being blasted over the PA it grows… everyone know what signifies the beginning from following YOUTUBE videos or reading or talking to someone who went last night…. delirium reins down as the opening chords of Bowies Space Oddity unfolds for us….as Bowies tunes concludes Larry's drums kick in and out of know where the new tune Breathe hits as the Biggest band in the world is pretty ballsy to come out and play 4 new songs one after another.
No LINE ON THE HORIZON then a nice Bono Hello with an intro into Get On Your Boots which has some awesome bass and drum kicking…and then into the killer of these 4 tunes Magnificent … this is a great song !! We are pumped   and the euro-rockers keep hitting us Mysterious Ways followed by Beautiful Day come F***IN  on! The Explorer Edge uses in the intro to Beautiful Day offers us a slightly longer version…. a nice change from the album track !! Larry gets a ride during this song as his drum platform move around in a circle for some reason and then ELEVATION!
Just look at these songs played already!! We are in a deadly spot as the Edge is playing a lot directly in front of where we are posted!! The camera attached the stage and sliding around the stage perimeter is annoying but it still so nice to be this close. There is some momentary thought of maybe it would be nice to back it the stands to get the full effect of the stage design but this quickly fades when Still haven't Found What I'm Looking For get unleashed followed by Unknown Caller!!
Edge does really nice guitar work on this tune just understated enough to really send that trade- mark ethereal sound wafting out to the masses!!  The keyboards are magic here as well. Got to Love it!!!  New Years Day still carries the same passion it had for when I saw the first time!! This band still plays this with conviction and it is good!!
I have been listening to the bootleg from Barcelona shows of this tour and NYD isn't played so I guess they are doing some deviating from a standard setlist. This stage & show is so large that deviating from a standard list would be pretty difficult as it has to pretty heavily choreographed, all the way through. I guess you could say this would be the only
down side that the show is almost "bigger" than you can take in, like on the edge of being too much!!
During one of the many "participation moments"  Bono yells to the condo towers that peer into the Rogers Centre to offer a signal that they were listening …turn your lights on & off if your listening he said ….. there were some responders and it was classic!! Anyway we wind down near here with some acoustic ……Stuck in a Moment.
The second serious sing along is the City of Blinding Lights. I loved this tune from the first moment I heard it was the first song to jump from HTDAB for me and it still sounds gorgeous.  At the end of Unforgettable Fire…Bono pulled a young kid up onto the ramp.
See it happen here Then he kicked off CITY by walking hand in hand with him. Lucas was his name and Bono seemed to be singing & teaching him something using the songs lyrics.  When lyric regarding purple irises the camera can't see, Bono took off his shaded glasses and had his young partner put them on… it was cool to see the kid looking around with the shades as cameras flashed..  It was marvelous… the interplay and symbolic nature of the song and the child in relation to what was going on in the song. It seemed to fit well!!
Hello Hello!! Vertigo and the crowd are in frenzy. I mean a real frenzy!! I think we are peaking here because the energy is just so high. In this moment we are all just jumping up and down in one big mass!!  I'll Go Crazy gets a highly souped- up extended remix version that is nice! I liked it a lot better then the album. It is tough to say but Sunday Bloody Sunday sailed by way too fast. It wasn't the most inspired version I have ever heard. The crowd started this song out strong…I am sure the first part of the song got a standard treatment with Edge's guitar was ringing like a friggin bell… but it got mush more interesting when and we got a little Clash throwin' in for good measure…with Rock The Casbah and the Irish lullaby that was to bridge to the portion of the show that honors  Aung San Suu.
We get out our masks on and volunteers wearing masks walk the catwalk that separates the inner GA section from the main GA section. This is a very poignant moment.  I know this deserves more explanation but this is a rock show review. I will leave the political explanation to someone who is more inclined. I could tell but really couldn't really see the stage when it came completely alive during Walk On. The massive revolving screen dropped down and formed a huge cone. I'm not sure if it was at this point Bono mentioned Daniel Lanois and the fact it is his birthday pretty soon. He said "Happy Birthday Danny Boy".
The band kind of disappeared for awhile around this point and came out to do One… Bono out to the microphone hold that beautiful green Gretsch guitar with The Goal is Soul pick guard…had the whole place pull out cell phone and called them "our stars". I know this would have been a nice place for Daniel Lanois drop in for a guest appearance as he
did in Toronto during a show at the Air Canada Centre!! For some reason Bono went on to sing Amazing Grace and I kind of recall at some point near Walk On …I scored a setlist from the camera guy that contains some details. Where the Streets Have No Name closes out the first encore and I know that the huge microphone I saw pulled up to the ceiling earlier hasn't been used yet.
Out comes Bono wearing a jacket covers with red lighting and this awesome microphone drops down that completely lights up in hues of blues and reds that fit Ultraviolet (light my way) perfectly. It is quite a scene as the stage is darkened and we get this ultraviolet futuristic scene played out to a great not so hidden gem from Achtung Baby!! Then he blends right into With or Without You with this same microphone and jacket setup. Pretty intense!!
If that version didn't move you …maybe this one will shot from a Condo Tower Looking in on the same song
I know the show ended with a new song Moment of Surrender but I may have given up the ghost because I just can't seem to light that candle. I remember the band fading off the stage and this juggernaut coming to a slow crawl. The show seemed to fly by.
I felt like the main set was done in a half hour. Sometime after the lights came up and people were milling about watching the techs begin the load out. A tech threw a bunch of guitar picks out. As the crowd reached high the concertaholic goes low and to the floor because he knows these thrown guitar picks are hard to catch and some always hit the floor…. Yes I got a pick!! It was a long day but well worth it!! The 360 spectacle is a must see!! All future tours will be measured against this new standard.  I don't see anything on the horizon that will even come close!!
…..
Leave us a comment if you have seen this tour and tell us your favourite moment!